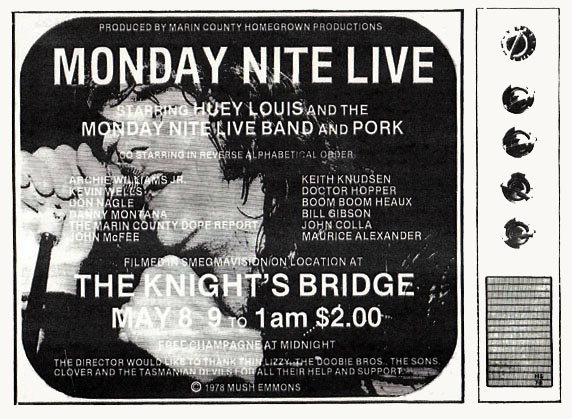 Huey Louis and the Monday Nite Live Band was formed in San Francisco in the spring of 1978. The outfit lasted only a few months with the nucleus of the players turning into what would become Huey Lewis and the News.
When Clover broke up early in 1978, Huey Lewis went back to San Francisco. There he was asked to run a jam session at 'his' local club "Uncle Charlie's" outside of San Francisco (Corte Madera) on Monday nights (as you can see in the picture above, it wasn't only "Uncle Charlie's though). It was Monday nights because not many people came to visit a club on a Monday. As a matter of fact Huey's Monday Nite Live sessions started to become very popular and soon Monday nights were sold out (ca. 300 people).
A local studio owner - being amazed he couldn't get into the club because so many people wanted to see the jam session - offered Huey some free studio time. By that time Huey had already formed his band American Express. The result of this was 'Exodisco' the first recording by a band which would eventually become Huey Lewis and the News. Phonogram (Clover's former label) loved this song and gave Huey $ 6000. With that money three more demo tunes were cut which caught the attention of Bob Brown - Huey's manager - and eventually resulted in a record deal with Chrysalis, Huey Lewis and the News' first label.
Huey Lewis used the Monday Nite Live sessions to gather the musicians he liked best - personnel included: Huey Lewis, Sean Hopper (Doctor Hopper), Mario Cipollina, Johnny Colla, Bill Gibson, Chris Hayes, Nick Gravenites, Keith Knudsen, Archie Williams Jr., Terry Haggerty, Kevin Wells, John McFee, Don Nagle, Danny Montana, The Marin County Dope Report, Boom Boom Heaux, Stu Feldman, John Farey ...
-- back to Huey Lewis and the News entry --
| | |
| --- | --- |
| © 2002-2015 bay-area-bands.com | |