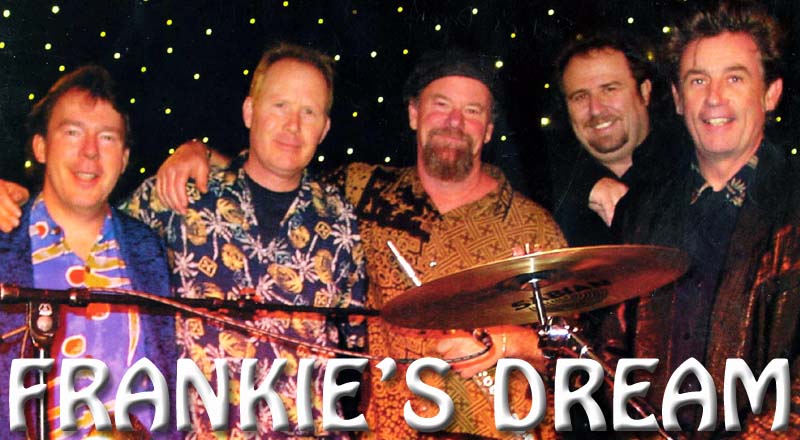 John Hastyy, Steve Keating, Frank Ellis, Randy McGowan, Norman Collins
Frankie's Dream came together spring of 2002. Frankie Ellis and Randy McGowan know each other for 36 years now as they used to play together in a band called The Mad Brothers in the early 70s and mid 80s that used to open for acts like Maria Muldaur and Creedence Clearwater Revival. They were quite popular in the S.F. bay area and had the same band members floating in and out of their live acts. In addition Randy McGowan had a band called Harley's Comet that was some kind of satellite to The Mad Brothers and both bands used to play the same circuit and sometimes lived in the same house.
Once the band broke up the band members lost touch and didn't see each other for years. They met again at an alumni members wedding reception. With their new band Frankie's Dream they use the original The Mad Brother's drummer John Hasty, who was in that band at the tender age of 15, in the first 5 years. Their new drummer is David Platshon who used to play with Nils Lofgren and legends such as Ike and Tina Turner, The Motels, Leon Russell, Spencer Davis, and Dolly Parton.
On guitar they added Steve Keating who is an award winning singer songwriter (Billboard Magazine winner best song 2001) and as they needed another guitar player to cover a lot of the guitar parts that were on the CD for their live gigs, they added Norman Collins. Norman Collins had been a good friend of Randy McGowan for many years and is an experienced lead guitarist ,vocalist ,singer and songwriter. His own solo CD "Man About Town", produced by Scott Mattews, received critical praise.
Randy McGowan released the CD "Pictures of Us" in 1996 with his country band Memphis Exchange. The critics loved it but nobody could find in the retail market. Another CD available from Memphis Exchange is "Du Jour" (2004).
Frankie's Dream's first gig was video taped at a venue they regularly performed at called Konacti Harbor Resort. That night they opened for Tower of Power and the performance could once be found on their now defunct website. Even though it looks like the band doesn't exist anymore you should check out their CD "It Comes In Waves" which is still available. The album is a true gem and belongs to those CDs you will play again and again. Cool music and great lyrics!!!
Discography:

2004 It Comes In Waves
It Comes In Waves
Frankie's Dream
(Fig Records 2004)
Bayou Green -- It Comes In Waves -- Velocity Of Love -- It's Alright -- Good Friends -- Shining Through -- Weekend Lover -- Unfortunate Fame -- Tiny Fingers -- The Journey -- A Place Called Love -- Sacred Garden

Musicians: Frank Ellis (vocals/guitar/harmonium/percussion); Steve Keating (vocals/guitars); Randy McGowan (bass/vocals/keyboards), John Hasty (drums/percussion)

Additional Musicians: The Seattle Horns, i.e. Randy Lintott (lead trumpet/fluegelhorn), Jay Thomas (sax) and Dan Marcus (trombone/tuba); Lee Parvin (pianos/organ/accordion); Doug Adams (violins/harmonica); Jim Day (guitar)
| | |
| --- | --- |
| © 2002-2015 bay-area-bands.com | |